January 8, 2021
As magazine publishers know, USPS mail is moving slowly, and there are few signs the backlog will be cleared up soon. To call the USPS mail flow situation a perfect storm would be an understatement.
Starting things off was record mail-in voting for this election season. Following very closely on the heels of this was record volume of e-commerce shopping and package delivery for the holidays – driven by the pandemic and consumers' desire to shop online rather than in person.
Holiday package delivery was then increased by spillover volume from private carriers, including FedEx and UPS. These agencies, for example, cut off deliveries for some retailers so they could meet the Christmas Eve delivery deadline, and subsequent new orders had to go through the USPS. They also managed surge by raising rates and capping volume, both of which shunted more volume over to the Postal Service. USPS hired more seasonal workers and expanded Sunday and holiday delivery to meet demand, but there weren't enough aircraft, trucks, or employees to handle the volume.
Another significant factor has been the cost-cutting initiatives undertaken by Postmaster General Louis DeJoy. These initiatives, including a limitation on practices like overtime hours and extra mail delivery trips, began to slow mail flow starting in the summer (click here to view an enlarged version of the graph at left). By August, periodicals had an on-time delivery rate of 69 percent, an eight percentage-point drop in a matter of weeks. Performance rebounded over the fall and then fell again during the holiday season. It stood at 54 percent for the week of Dec. 12, 2020, the most recent Postal Service data available.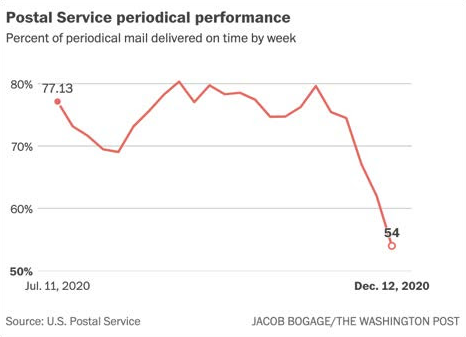 Lastly, there is the impact of coronavirus on the USPS workforce. According to the American Postal Workers Union, approximately 19,000 workers were in quarantine at the end of 2020 after becoming infected or exposed to the virus. Nearly 30,000 of the Postal Service's 644,000 workers tested positive for COVID-19 last year, according to the Postal Service.
Although the USPS continues to work around-the-clock to address this historic volume, the agency has not offered a timeline for getting back to standard mail flow. If you need specific assistance regarding your mail delivery, please contact your Publisher Services team. We will do what we can to help and advise.