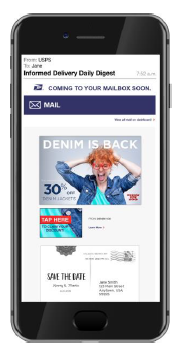 May 7, 2021
Consumers value physical mail and the tactile experience it offers. Informed Delivery, a consumer-facing feature offered by the USPS, enhances the value of physical mail by creating an additional touchpoint via digital content.
Here's how it works: Informed Delivery sends subscribers scanned images of the exterior of letter-size mailpieces and tracking links for packages that are soon-to-arrive in their mailboxes. Subscribers view these consolidated messages via email, mobile app, or online dashboard. The average open rate for email (between Mar. 2020 and Mar. 2021) is over 70 percent.
Mailers can integrate digital campaign elements into this preview, such as custom images and target URLs, to further enhance the mail notification and encourage additional engagement. The USPS report high conversion rates for interactive digital campaigns: 38 percent of Informed Delivery users have clicked a digital campaign; 70 percent of users who clicked then purchased from the destination website.
As reported at this week's annual National Postal Forum, an average of 1 million new users register each month to receive Informed Delivery notifications. Overall, there are 37 million users enrolled.
You can secure a 2-percent discount on your related mailing if you conduct an Interactive Campaign this year during the 2021 USPS Informed Delivery Promotion period. The registration period for this promotion is July 15, 20201 to November 30, 2021. The promotion period is September 1, 2021 to November 30, 2021.
Learn more at https://www.usps.com/business/informed-delivery.htm.
If you have any questions about this promotion and whether it's a good fit or your publishing efforts, please contact your Lane Press Customer Success Manager.