The Postal Regulatory Commission (PRC) has approved the United States Postal Service (USPS) proposal for five promotional programs aimed at increasing mail volumes by offering incentives to mailers. These promotions will be available during the calendar year 2016.
Earned Value Promotion
Personalized Color Transpromo Promotion
Emerging and Advanced Technology/Video In Print Promotion
Tactile, Sensory and Interactive Mailpiece Engagement Promotion
Mobile Shopping Promotion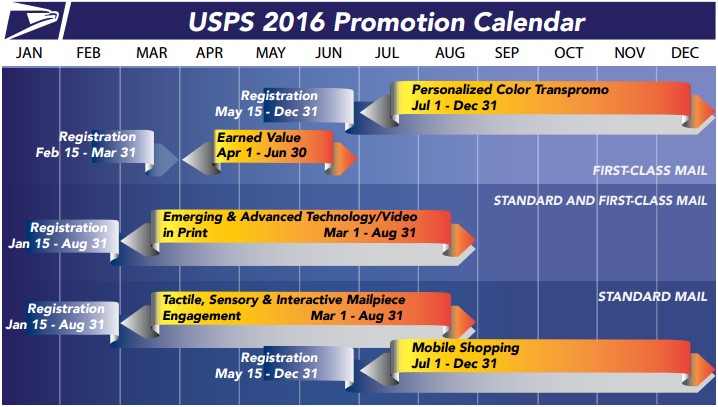 The last three, which apply to Standard mail, are most relevant for publishers. As is typical of the USPS, there is a fair amount of detail and complexity associated with each promotion, but here are the things you need to know.
Keep in mind that the USPS is requiring that all mailpieces proposed for these discounts are reviewed by the USPS Program Office. If you are interested in trying something new listed here — or already have features planned that you think will qualify under the requirements of these promotions, please notify your Customer Success Manager (CSM) and we will help you through the approval process.
Emerging and Advanced Technology/Video in Print
This promotion focuses on digital technologies and how they can be used to enhance a printed piece. To participate in the promotion, the mailpiece must incorporate any of the following technologies:
Near Field Communication (NFC). This generally consists of embedding a small chip into a mailpiece that can be recognized by a NFC-enabled device, such as a smartphone or tablet. When the chip is activated by the device, an interactive experience ensues — such as prompting the download of an App, video, or game; auto-dialing a phone number; or generating a personalized message.
iBeacon/Beacon Technology. This is the use of low-energy Bluetooth devices that broadcast an identifier to nearby mobile and electronic devices. This technology can be used to provide location information and prompt location-based actions. So you might use this to send personalized messages or, say, restaurant coupons, to readers when they are in a certain area.
Enhanced Augmented Reality (AR). Augmented Reality technology is not new. Generally, it entails working with a specialized vendor who can embed an image in an element of your publication that will prompt digital technology to run when activated by a device's camera. With this promotion, the USPS is stipulating that the digital technology must create an interactive experience — for example, video animation and/or 2D/3D interactive graphics playing over your publication so they appear to be interacting with your publication.
Video in Print (ViP). ViP is video advertising featured in a mailpiece. This can be accomplished by embedding a video screen into the publication itself or by utilizing a tool that will prompt a video to play on a smartphone or tablet.
Registration period: Jan 15 – Aug 31, 2016
Program period: Mar 1 – Aug 31, 2016
Discount: 2% off eligible postage
Tactile, Sensory, and Interactive Mailpiece Engagement
With this promotion, the USPS is encouraging mailers to create a multi-sensory experience with their print pieces through the use of special visual effects, sound, scent, texture, and even taste. Neuroscience supports the idea, says the USPS, that brand recognition and message recall are strengthened when marketing materials engage tactile experiences and/or additional senses.
To participate in this promotion, your mailpieces must incorporate one of the following features:
Specialty Inks. Specialty inks must be distinguishable on paper and therefore enhance the value of the mailpiece. Among the list of advanced inks, the USPS includes the more common options of metallic or clear inks.
Specialty Papers. This covers some interesting options. The USPS will grant discounts for paper enhanced with any of the following featues: Scent (infused), sound (embedded with a sound chip), taste (incorporating edible components, such as tea or rice paper), visual (incorporating special effects, such as filters or holographics), and texture. The last is perhaps the most readily acheived because it includes fairly common publication treatments, such as cover coatings, surface texture treatments, and embossing.
Interactive Features. This option is also great for publishers. It covers the use of folds and dimensional enhancements intended to engage the reader. To qualify, the construction of the folds must include more than simple folds, such as half folds, tri-folds, and gatefolds. Instead, the fold must be 3D or pop-up and be something that the reader can physically manipulate.
Registration period: Jan 15 – Aug 31, 2016
Program period: Mar 1 – Aug 31, 2016
Discount: 2% off eligible postage
Mobile Shopping
This is the most straightforward of this year's Standard mail promotions. It encourages mailers to integrate mobile technology with direct mail to create a convenient method for consumers to do their shopping. The mailpiece must include a mobile barcode or print/mobile technology that can be read or scanned by a mobile device and leads the reader to a mobile-optimized website or the ability to complete a financial transaction. The reader must be able to purchase a featured product from the website.
Registration period: May 15 – Dec 31, 2016
Program period: Jul 1 – Dec 31, 2016
Discount: 2% off eligible postage
For further details, see the section on the USPS' National Customer Support Center website, RIBBS, dedicated to Promotions & Incentives Programs for First-Class & Standard Mail.
. . . . .