By Elizabeth Folwell
Creative Director/Adirondack Life
My husband and I have the largest maple operation in Blue Mountain Lake, New York, but what that really means is that we make enough syrup to share with family and friends and use in our kitchen all year. At the annual International Regional Magazine Conference in October we were asked to tell others three topics or skills in which we consider ourselves experts. I offered up "cooking with maple syrup." Dave Briggs, vice-president at Lane Press, pricked up his ears and suggested I share some recipes via this newsletter.
I bake bread with maple syrup, concoct buckets of maple granola, pour it over Greek yogurt in the morning, mix it with cider and Bourbon for a hot adult beverage and even splash it in plain seltzer for a cold drink that tastes like cream soda, only better. It substitutes nicely for corn syrup in a pecan pie or honey in baklava. Here are some ideas for using this traditional North Country sweetener in ways that allow its smoky, earthy flavor to shine.
This first recipe, from a neighbor in Blue Mountain Lake, was published in Adirondack Life and included in our spring/summer cookbook Northern Bounty.
Maple Syrup Salad Dressing
1 cup cider vinegar
Juice and pulp of a small onion, grated
1 teaspoon salt
½ teaspoon paprika
¼ teaspoon Tabasco sauce
¼ teaspoon poultry seasoning
¼ teaspoon dry mustard
¾ cup maple syrup
1 cup olive oil
In a quart-sized glass jar whisk together vinegar, onion pulp and juice, salt, paprika, Tabasco, poultry seasoning and dry mustard.  Add maple syrup, whisking until blended.  Add olive oil and shake well before using.
Maple Glaze for Chicken or Pork
Brush this on chicken wings and bake at high heat or pour over an unseasoned pork tenderloin.
1/2 c maple syrup (grade B or dark amber)
1/2 c balsamic vinegar
1/3 c olive oil
1 tsp smoked paprika
1 tsp sweet paprika
1 tsp sea salt or more to taste
1 tsp grated garlic
Whisk together all ingredients. Dunk chicken wings in glaze and bake at 400 degrees for 10-15 minutes, turning and brushing with more glaze until done. For pork tenderloin, place tenderloin in glaze as a marinade and refrigerate at least four hours. Place on greased baking pan and bake, covered lightly with foil at 375 for 20 minutes or until instant-read thermometer registers 155. Uncover, increase heat to 400 and bake an additional 5 minutes.
This maple mousse recipe appeared in Adirondack Life's fall/winter collection, Northern Comfort. Poured into margarita or martini glasses, it's elegant enough for a candlelit supper.
Chilled Maple Mousse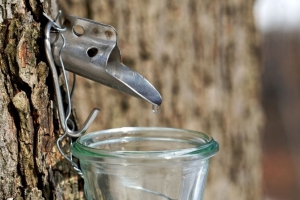 ¾ c maple syrup
1 envelope Knox unflavored gelatin
3 eggs, separated
2 tbsp brown sugar
1 c heavy cream
2 tbsp Nocello Walnut Liqueur (similar in taste to Frangelico)
Whipped cream (for garnish)
Chopped walnuts (for garnish)
Mix maple syrup and gelatin in a medium saucepan. Let set for 5 minutes until mixture thickens.  Heat over medium heat until gelatin dissolves. Remove from heat. Incorporate egg yolks and allow to cool.
In a mixing bowl, beat the egg whites until foamy.  Add brown sugar and beat until stiff.  In another bowl, beat heavy cream and liqueur until thick.  Fold all three mixes – gelatin, egg whites and heavy cream – together and chill overnight.
Betsy's Maple Granola
1 c maple syrup
2 tsp vanilla
24 oz rolled oats (a whole canister, old-fashioned or quick)
1 c whole raw almonds
1 c raw sunflower seeds
1 c raw pepitas
1 c shredded coconut
1 c wheat germ
1 c oat bran
1/2 c flaxseed
1/2 c chia seeds
1 c craisins
1 c dried apricots, chopped
Mix maple syrup and vanilla. Generously grease a roasting pan and preheat oven to 325. Pour all dry ingredients except fruit in pan. Pour half the syrup mixture and stir. Bake for 30 minutes, stirring occasionally. Add remaining syrup, stir and bake 30-40 minutes more or until fragrant and golden. Allow to cool and add dry fruit. Store in a covered container and serve with Greek yogurt.
. . . . .
Join us on Twitter and LinkedIn to share your thoughts & opinions.