July 7, 2016 –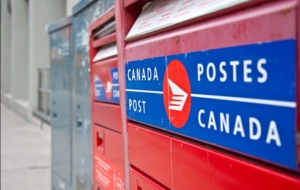 Canada Post is extending its lockout notice to Monday at 12:01 a.m. ET and says it is willing to submit to binding arbitration in an effort to resolve the ongoing labor dispute with the Canadian Union of Postal Workers (CUPW).
In a statement late Wednesday, the Crown corporation said it was extending its deadline, which had been Friday, in hopes that CUPW would also agree to binding arbitration. However, there are no talks planned and Canada Post spokesman Jon Hamilton said earlier Wednesday that the two sides couldn't be further apart.
Canada Post and the union remain at loggerheads on CUPW's request for wage increases for rural mail carriers and pension changes Canada Post says it needs to reduce costs.
Monday's contract suspension would give Canada Post the option of triggering a work stoppage by locking out employees. Canada Post has said that in the event of a full work disruption, it will not operate — mail and parcels will not be delivered, and no new items will be accepted.
All Canada-bound magazines that leave the Lane Press facility are handled by APC Postal Logistics. APC has notified us that they will collect all such mail prior to the deadline and store it in its own secure warehouses until the stare-down and/or strike ends, at which point it will immediately deposit this mail into the mail stream.
Following any work stoppage, Canada Post will have a backlog of material to process and deliver. Delivery will lag. This is important to know and communicate to your recipients to set their expectations.
The last time Canada Post experienced a work stoppage was in 2011, which included 10 days of rotating strikes and a lockout before the previous government mandated the company to end the dispute with back-to-work legislation.